Why Are Street Signs Different Colors?
Different Street Sign Colors and What They Mean
If you pay attention to street signs, you'll notice that they can be found in a variety of different colors. Different colors are utilized for different kinds of street signs because, well, they mean different things. Knowing the difference between street sign colors helps increase your overall knowledge of the road, but it can also help you more easily identify different kinds of street signs.
To make this as easy as possible, we'll lay out all of the colors that you'll find on street signs along with the regulations associated with each as well as what kind of signs you might find each color on. This information can be found in the Federal Highway Administration Manual on Uniform Traffic Control Devices (MUTCD).
What Do Black and White Street Signs Mean?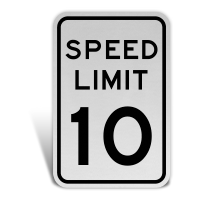 If you see a black and white street sign, that means it's a regulatory sign. These signs are also typically shaped like a rectangle or square, which are also reserved for regulatory signs. Some common examples of regulatory signs include:
What Does a Blue Street Sign Mean?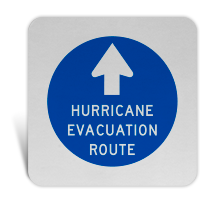 If you see a blue street sign, it's usually a road user service sign and will be shaped like a square or rectangle. Blue is also used for is used for interstate and county route signs.
Gas stations
Handicap accessible facility
Tent camping
Emergency medical services
What Do Brown Street Signs Mean?
Brown street signs are for signs that mark points of cultural and recreational significance, and for forest route signs.
Swimming area
Picnic area
Fishing pier
Historic buildings
State park
What Does a Fluorescent Yellow-Green Street Sign Mean?
Fluorescent yellow-green is reserved for pedestrian warning, bicycle warning, and school warning signs.
Pedestrian crossing
Playground ahead
Bicycle crossing
What Does a Fluorescent Pink Street Sign Mean?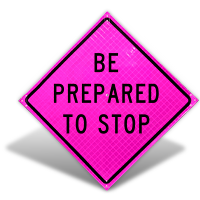 Fluorescent pink is only used for incident management signs, so if you see one, you'll know exactly what you're looking at. Some common incident management signs are:
What Does a Green Street Sign Mean?
Green street signs provide directional guidance and can help drivers with navigating to streets, points of interest and more. Some common examples of green road signs include:
Street name
Mile marker
Destination distance
Interchange exit
What Does an Orange Street Sign Mean?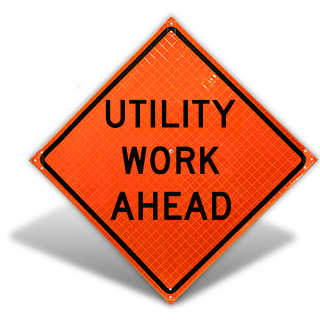 Orange street signs are similar to fluorescent pink signs, except they are used for planned temporary events such as utility work and construction zones and fluorescent pink signs are used for unexpected events such as fires and car accidents. Some common orange street signs include:
Utility work ahead
Slow traffic ahead
What Does a Purple Street Sign Mean?
Purple is used exclusively for street signs that restrict lanes to use by vehicles with registered electronic toll collection (ETC) accounts such as:
GeauxPass
E-ZPass
NC Quick Pass
What Does a Red Street Sign Mean?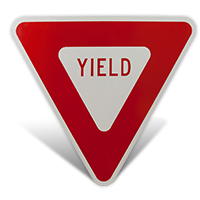 Red is almost exclusively used for prohibitive signs but can also be found on interstate route signs. Some common examples of red street signs are:
What Does a Yellow Street Sign Mean?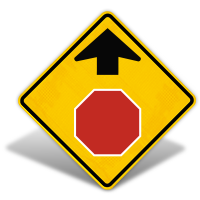 Yellow is used for warning signs and alert drivers to road hazards, changes, and unexpected conditions. The key distinction between yellow street signs and fluorescent pink or orange signs is that yellow signs are for permanent warnings, not temporary warnings. Some common examples of yellow street signs include:
Color is an important part of the anatomy of a street sign, and you can tell a lot about the meaning of a sign just by looking at its colors. In some cases, the color of a street sign might be more important than the actual message on the sign. For example, if you were to see a red sign near the end of a roadway before an intersection, you know that it's likely either a stop sign or a yield sign without even reading the sign or noticing the shape. This is why it's so important that colors are used appropriately on street signs.
---
TrafficSign.com does not recommend or specify the use of a specific safety sign because it does not have knowledge of the hazard(s) our customers are identifying. It is the customer's sole responsibility to identify the hazard(s) that may be present and select one or more signs (stock or custom) that accurately identify their specific hazard(s) and complies with any applicable federal, state or local laws or regulations, any worksite specific rules or regulations and/or any applicable safety standards (including, without limitation, MUTCD standards). TrafficSign.com disclaims any and all liability (excluding liability for our Product Warranty contained in our Terms and Conditions) for any sign selected by a customer and shall not be responsible for any personal injury or property damage resulting from the use of signs purchased from it or for the independent interpretation made of any applicable federal, state or local laws or regulations, any worksite specific rules or regulations, and/or any applicable safety standards (including, without limitation, MUTCD standards). Customer shall indemnify and hold TrafficSign.com and its corporate parent and its officers, directors, and affiliates harmless from and against any and all claims, loss, or expense (including attorneys' fees) arising from or related to the purchase and use by customer or any third party of any sign purchased by customer from TrafficSign.com