Vertical 911 Address Signs with Street Name - Fire Code Compliant, Double-Sided or Single-Sided
Our 911 Address Signs have been designed to meet the specifications set by the majority of townships and municipalities across the country. These specifications require the use of a 6 × 18″ or larger reflective sign to display your address number so that emergency personnel can quickly locate your house during an emergency situation. All our 911 Address Signs are available in double-sided or single-sided material.
Compliant with the National Fire Prevention Association, NFPA 1 Fire Code 2018. Learn more about the NFPA 1 2018 Fire Code below.
Other 911 Address Signs:
Need to design a custom sign but don't see a template you like? Email us directly at sales@trafficsign.com.
Product Information
NFPA 1 Fire Code 2018:
10.11 Fire Protection Markings.
10.11.1 Premises Identification.
10.11.1.1 New and existing buildings shall have approved address numbers placed in a position to be plainly legible and visible from the street or road fronting the property.
10.11.1.2 Address numbers shall be a minimum of 4 inches (100 mm) high with a minimum stroke width of 1/2 inches (13 mm).
10.11.1.3 Telecommunications equipment utilized to communicate address data to E911 communication centers shall be programmed and maintained to accurately convey such address information to the E911 communication center.
10.11.1.4 The assignment of addresses to buildings shall be in accordance with a method approved by the *AHJ.
10.11.1.5 Addresses shall not be changed unless approved by that *AHJ.
10.11.1.6 Address numbers for suites within a multiple tenant building or complex shall be individually identified in a manner approved by the *AHJ.
10.11.1.7 Address numbers shall contrast with their background.
10.11.1.8 Address numbers shall be arabic numerals or alphabet letters.
1.3.2 Referenced Standards.
1.3.2.2 Where no applicable codes, standards, or requirements are set forth in this Code or contained within other laws, codes, regulations, ordinances, or bylaws adopted by the authority having jurisdiction (*AHJ), compliance with applicable codes and standards of NFPA or other nationally recognized standards, as are approved, or approved performance based options in accordance with Chapter 5, shall be deemed as prima facie evidence of compliance with the intent of this Code.
---
Engineering Grade Reflective Aluminum
Learn about our material transition from 3M EGP Reflective to 3M Advanced Flexible Engineer Grade Reflective 7310.
A non-metallized, corrosion free, microprismatic reflective sheeting.
It is specially designed to have high scratch resistance and is flexible and durable.
3M Advanced Flexible Engineering Grade Reflective Sheeting Series 7300 meets the requirements of ASTM D4956 Type I.
Microseal technology gives the sheeting a more uniform appearance, compared to conventional prismatic sheetings, and a whiter base color, compared to beaded sheetings.
It provides long-term reflectivity and durability.
Performance life of 5 to 7 years outdoors
Adhesive Type Pressure-sensitive
Custom hole configuration: Available at an additional cost.
Antigraffiti Overlaminate: Available at an additional cost.
---
High Intensity Prismatic (HIP) Reflective Aluminum
3M™ High Intensity Prismatic Reflective Sheeting Series 3930 is a non-metalized microprismatic lens reflective sheeting
3M™ High Intensity Prismatic Reflective Sheeting provides high levels of retroreflectivity for traffic signs, work zone devices, and delineators
Durable, tough topcoat aids against scuffs and scratches
Meets ASTM D4956 Type III, IV
Performance warranted 7 to 10 years
High Intensity Prismatic sheeting provides long-term reflectivity and durability
Custom hole configuration: Available at an additional cost.
Antigraffiti Overlaminate: Available at an additional cost.
---
Diamond Grade (DG) Reflective Aluminum
3M™ Diamond Grade Type IX Reflective Sheeting is a super-high efficiency, retro-reflective sheeting designed for signs that need to be highly visible during daytime, nighttime, twilight, and inclement weather
Excellent visibility at wide entrance and observation angles
This sheeting is designed to have the highest retro reflective characteristics at medium and short road distance
Diamond Grade Reflective Sheeting will remain effective for its intended use and meet minimum required values for coefficient of retro-reflectivity for up to 10 years
Custom hole configuration: Available at an additional cost.
Antigraffiti Overlaminate: Available at an additional cost.
---
VERTICAL 911 ADDRESS SIGNS WITH STREET NAME DETAILS
How many sign sizes do you offer for vertical 911 address signs with street name?
8 standard sizes: 6 x 12", 6 x 18", 6 x 24", 6 x 30", 6 x 36", 9 x 18", 9 x 24", and 9 x 30".
Are your signs only available in one orientation?
No, we offer our address signs in either Vertical or Horizontal orientation. Start creating your sign with our tools below:
What sign colors do you offer?
We offer 7 color combinations: Green/Reflective, Blue/Reflective, Brown/Reflective, Reflective/Black, Red/Reflective, Yellow Reflective/Black, and Black/Reflective. (Background as well as characters are all retro-reflective.)
Sign Construction:
Our signs are manufactured on Flat .063" or .080" Rust Free Aluminum over-laminated with either:
Engineering Grade Prismatic (Type I)
High Intensity Prismatic (Type IV)
Diamond Grade (Type IX) Reflective Sheeting
Are these signs double sided?
Yes, our signs are provided with the same copy on both sides. We also offer a single sided configuration (second side is mill finish) for any custom application.
Sign Mounting:
911 address signs are provided with 2 standard mounting holes. 3 additional custom hole configurations are available as well. Scroll to the bottom of the page to see illustrations of hole configurations.
Click to download 911 address signs mounting methods
Address Sign Text Size:
We offer 3", 4", 5", and 6" high characters on our signs. 4" characters are the default on our signs and the most popular size for residential buildings. 5" characters are required by some counties for residential buildings. 6" characters are the typical size for apartment and commercial buildings. Some fire departments or municipalities require 3" as the minimum and 4" as the maximum. See table below to determine which character sizes are available for each sign size.
We have the capability of making our address signs any length using any text size requirements, but online we only offer 8 sizes and four standard text sizes of 3", 4", 5" and 6".
Font Style Options
Safetysign.com will use the font below known as the FHWA Series fonts (also known as Standard Alphabets for Highway Signs) when producing your 911 address signs. This font offers several variations of character compression and character spacing — the correct version will be selected by us when producing your signs. The selection will be based on the length of the street address versus the length of the sign ordered.
VERTICAL ADDRESS SIGNS DETAILS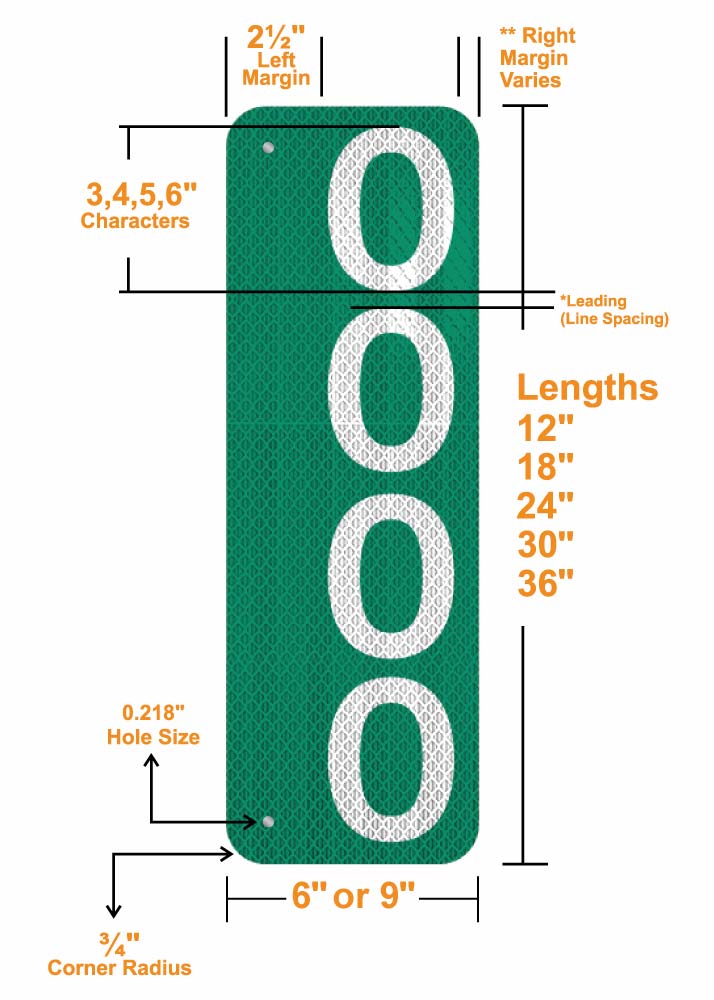 ---
VERTICAL ADDRESS SIGNS HOLE CONFIGURATIONS
2 Side holes (standard option),
2 Centered holes (top and bottom)
2 Top holes (hanging type)
No Holes (use when installing on bracket)
Reviews