Product Information
Compliance
Chevron Alignment Signs(W1-8)
This sign follows the design guidelines specified in the MUTCD Standard for Parking and Traffic Signs
To view and print a PDF version of this page, click on this link: TrafficSign.com Chevron Alignment Sign PDF →
To Learn about the Materials used in the making of this sign, refer to the Tab called "Material Descriptions..."
---
Sign Construction:
These signs are manufactured with rust free aluminum laminated with Engineering Grade Reflective (Type I).
Graphics are printed with translucent inks or applied vinyl graphics, opaque and translucent film. (Translucent ink or film is not applicable to the color black).
Aluminum will not chip, crack or rust. Aluminum signs will last longer than plastic or steel signs.
Hole configuration is illustrated below, signs are supplied with 2 holes at 3/8" dia. (top & bottom)
These signs have been designed for the following applications: post, fence or wall mounting.
These traffic signs do not have any overlamination.
Image / Text on signs is printed directly onto the signmaterial.
Printed image will resist fading and mild chemicals.
---
Hole & Layout Configuration
Regulatory Chevron Alignment Sign (W1-8)
Chevron Alignment (W1-8) Sign is used to provide additional emphasis and guidance for a change in horizontal alignment of the roadway.
A Chevron sign may be used as an alternate or supplement to standard delineators and edge lines as appropriate on curves.
This sign is a vertical rectangle with no border.
If used, it should be installed on the outside of a turn or curve, in line with and at approximately a right angle to approaching traffic.
Chevron signs should be visible for a sufficient distance to provide the road user with adequate time to react to the change in alignment.
Chevron signs should not be placed on the far side of a T-intersection facing traffic.
Chevron signs should not be used to mark obstructions within or adjacent to the roadway.
To learn about Chevron Alignment Sign position, distance, etc see MUTCD Section 2C.09 Chevron Alignment Sign (W1-8)
Please note, different states may have different posting requirements.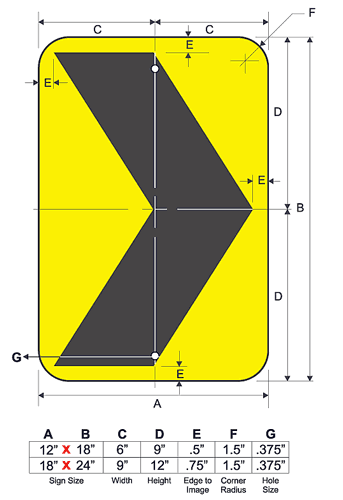 ---
Sign Mounting on U-Channel Post
What do you need when mounting chevron signs?
If you are mounting signs to a U-Channel Post, the following hardware accessories are required:
1 U-channel post, sizes range from 4ft to 12ft, either Green or Galvanized finishes.
1 Bolting set (Part # Y3465 or Y4899) set includes washers and bolts, or
1 Tamperproof Set (Part# Y4900 or Y4901) set includes washers, one way bolts and break away nuts.
1 Pair of Ribbed Plates (optional) Part# Y4915
Please follow the installation steps shown on the illustration.
Click on the link to view Post Installation Guidelines →
---
Links to Industries and Government Institutions Governing Signs:
Reviews