Note:
For use on signs with ⅜″ dia. holes, mounted on either U-Channel or Square sign posts.

Our signs are provided with 2 standard holes, installation using this bracket requires all signs to have a minimum of 4 holes (2 top and 2 bottom) following the Z-bar configuration below. We do not offer custom holes on the website at this time. If you require holes on your signs to use with these z-bars, contact customer service and request a price quote.
Product Information
Details
Z-Bar Sign Mount Features
Package includes one Z-bar. Review the installation guidelines below to order the correct number of bars for your application.
Aluminum Z-Brackets are great for supporting signs in medium to high speed zones and on high wind areas. This Z-bar splice attaches signs to U-channel or Square posts. Available in six different sizes to fit multiple sign dimensions and shapes.
Mounting hardware to attach Z-bar splice to signs posts is sold separately. Use either our popular Bolting Set or our Tamper Resistant Hardware.
NY DOT specifications: Aluminum Z-Bars weighing 1.00 lb/ft and measuring 2⅜″ × 1¼″ × 3/16″ may be pre-punched with 5/16″ diameter holes at 1″ centers along the entire length.
The horizontal z bar length shall be a minimum of 1″ longer than the center to center distance between extreme mounting holes. Where posts are located at the end of horizontal z bar, the horizontal z bar shall extend beyond the side of the post a minimum of one ½″ and a maximum of 2″.
Available in 6 different sizes.
Pre-drilled Z-bars attached securely to signs.
Supports signs in high wind areas.
Z-Bar holes are 5/16″ and 7/16″ in diameter with a distance of 1″ from centers.
Sign to Z-Bar mounting hardware is included.
Bolting set to attach Z-bar to post is sold separately. Use either our popular Bolting Set or our Tamper Resistant Hardware.
Weight:
9″ Z-Bar: 0.88 lbs,
13″ Z-Bar: 1.2 lbs,
16″ Z-Bar: 1.4 lbs,
19″ Z-Bar: 1.65 lbs,
25″ Z-Bar: 2 lbs,
31″ Z-Bar: 2.8 lbs.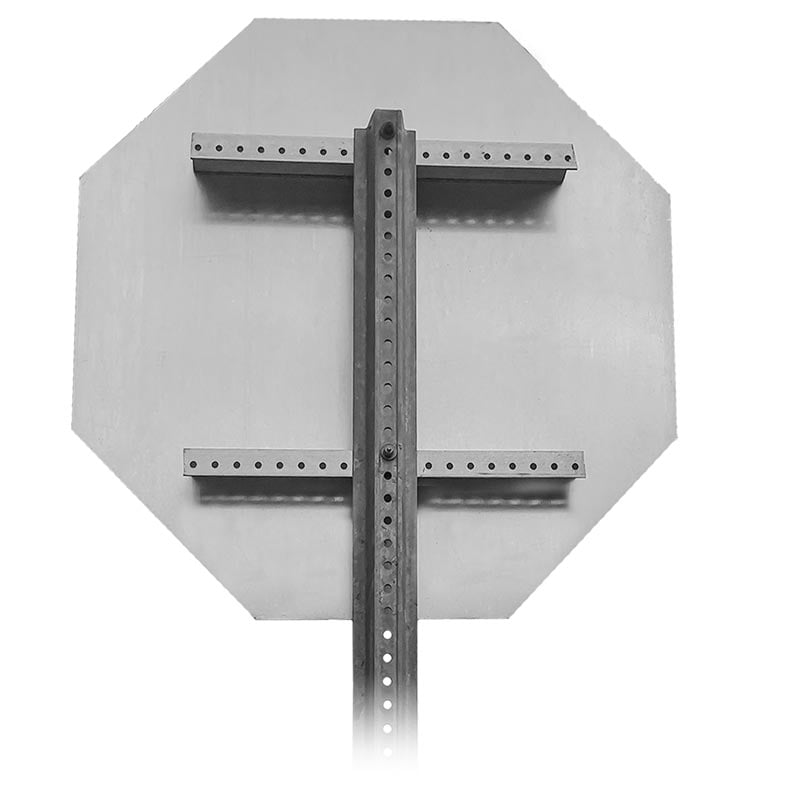 ---
Z-bar Hole Diameter
Z-bar is provided with two different hole sizes on each leg, 5/16″ holes attach Z-bar to sign and 7/16″ hole attaches Z-bar to post.
---
Installation Procedures
Z-Bar Splice on a U-Channel Post
Drill 3/8" diameter holes on the sign following
Z-bar Hole configuration.

Attach and secure Z-bar to sign using bolting set.
5/16" holes attach sign to Z-bar.
Position and mount Z-bar on U-channel post,
pushing bolt through the Z-bar and post.
Securing it tighly with nut.

Back view of a 24" square sign mounted on
a U-channel post with two 19" Z-bars.
---
Other Shapes
Reviews